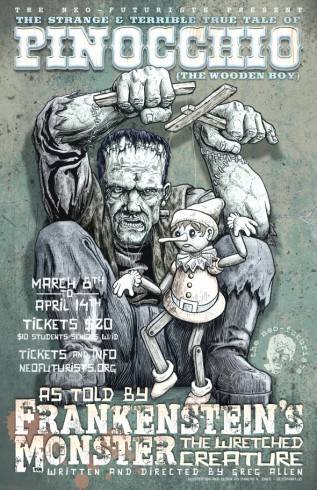 Written and Directed by Greg Allen
March 8 – April 14, 2012
Neo-Futurist Founding Director Greg Allen presents Carlo Collodi's original 1883 Italian masterpiece through the eyes of Mary Shelley's nameless hideous Monster, using a barrage of puppets, absurd costumes, mesmerizing stagecraft, and his trademark dark humor and meta-theatrics. Definitely NOT a children's story, this stage adaptation includes all the outrageous, bizarre, and violent scenes which are usually cut from other adaptations of Pinocchio. Allen parallels the stories of these two motherless, un-born creatures to explore the nature of love, betrayal, mortality, fatherhood, forgiveness, and the meaning of life itself. Pinocchio/Frankenstein proved to be among the best of Allen's award-winning work.
With Performances by: Robert Fenton, Guy Massey, Dan Kerr-Hobert, Tien Doman, Thomas Kelly and Chris Rickett
Featuring Design contributions by: Marlana May Carlson, Dan Kerr-Hobert, Joe Mazza, Benno Nelson, Gina Patterson, Joe Schermoly, Rachel Sypniewski and Blair Thomas
Photo Gallery
Press Highlights
Adjectival superlatives surface when I talk of Greg Allen's work. Intelligent, before all. Rambunctiously funny. Touching. Personal. Thought provoking. Beautiful. Intimate. Fearless. He's a playwright and theater artist that we all should be grateful to have around Chicago.

I enjoyed "The Strange and True Tale of Pinnochio (the Wooden Boy) as Told by Frankenstein's Monster (the Wretched Creature)" tremendously. For anyone even peripherally aware of the stories the corollaries are immediately apparent; the story of one motherless construct as told by another. The idea is so crystalline one wonders why the parallels have not been drawn earlier.

I cannot imagine anyone leaving the Neo-Futurarium without a grin on their face and some thoughts pulling on their coat for attention. … Thought-provoking stuff, to be sure, but marching arm in arm with gut-busting humor both anatomical and scatological, complete with dead kittens (fake) and dudes in rabbit masks doing The Running Man to House Of Pain (real).
Allen has assembled a wonderful team of artists to tell the story. In particular: Guy Massey's morose turn as the Monster, and the haunting, beautiful puppetry of Dan Kerr-Hobert. The show is easily worth twice what you might pay to see it. And the value of having a playwright the caliber of Greg Allen amidst us is incalculable. Go see this show.
HIGHLY RECOMMENDED
—Centerstage

Playwright/Director Greg Allen has created a sprawling "nightmare comedy" where literary legend is fused with pedestrian vulgarity and wonderful whimsy meets bleak brutality. This is a sad marathon of fantastical mayhem and a wonderfully wild ride. … Allen's concept of puppet meets monster is profound and poignant. As parable after similar parable unfolds, we see a Pinocchio that seems to get stupider, rather than learn anything by his misadventures. This creates a flat line of tension that is mercifully offset by the delightfully creative theatrics and charmingly enthusiastic performances. … The execution of the concept is sheer captivating enchantment. … It is Guy Massey that brilliantly grounds the goofiness in a somber reality of ultimate doom. Massey is an unnatural force of nature; the kind of nature depicted on wildlife programs that make you long for pictures of puppies to offset the terrifying realties of life on earth. …The conclusion is abrupt but magnificently satisfying and the trip itself is a singularly Neo-Futurist delight.
3 ½ Stars — HIGHLY RECOMMENDED
—Chicago Stage Review

Hysterical, cartoonish, middle-finger-extended madness that is as playful as it is warped. … There is an anarchic spirit underlying this production that is so strong and absorbing — so entertaining — that it is impossible not to be swept up in its embrace.
3 Stars — RECOMMENDED
—Chicago Tribune

Fans of Disney's revision will be disturbed while purists rejoice. … Brimming with the kind of zany energy audiences have come to expect from the Neo-Futurists, Pinocchio has the usual meta-comedic timing, stylistic inclusions and audience interaction that distinguish their productions. The addition of actual puppets of multiple varieties adds an extra level of visual poetry.
—Chicago Critic

A "violent, intriguingly weird show"
Top 5 Things To Do This Week
—Chicago Magazine

As we expect from this transformative troupe, the result is ingenious imagining.
—Chicago Stage Style

Spectacular! … It is serious, about the perils of conformity and so on, and it's also really funny. … Very much worth seeing.
—WBEZ, Dueling Critics

A brilliant deconstruction of Pinocchio as well as the way fairy tales, children's stories, and cultural icons are depicted. … The sheer variety and execution of the puppetry throughout the show is truly mind-blowing. … A dark, intentionally-bizarre production, but it's also incredibly funny … Hilarious! …
Pinocchio/Frankenstein is worth seeing for the comedy and the live visual spectacle, but ultimately succeeds as a thought-provoking commentary on why and how we sympathize with individuals, regardless of their behavior.
—Gaper's Block

Strange and funny
RECOMMENDED
—Chicago Reader

There is much to recommend in this production beginning with the masterful acting. … Creative, thoughtful, and not at all for kids.
RECOMMENDED
—Splash Magazine

The Neo-Futurists are silly, ridiculous, aggressive, funny and so very smart. … A damn good two hours … Freaking hilarious!
—Chicago Theatre Review

The show showed me what it is really like to sympathize with someone who is almost a complete jerk. … People who would like this show live donkeys, puppets, and violence. …Grownups should come see this show because is it sad, crazy, and fuh-larious.
—Ada Grey Reviews for You